Are you starting your studies in the fall semester of 2023? As a new degree student in higher education you are welcome to use our services at the FSHS. We are here to support your health and well-being throughout your studies.
We provide primary-level general and mental health services, oral health services and look after well-being in student communities nationwide.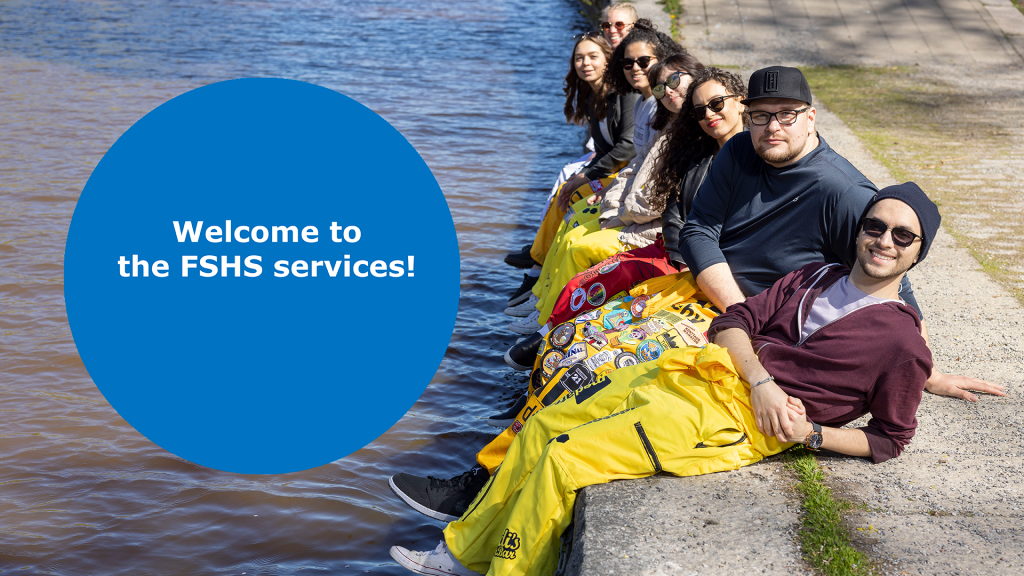 On this page, we have collected useful information about using our services.
Page content
Register as present for the semester
You can use our services if you're studying bachelor's or master's degree in a higher education institution in Finland and you have registered as an attending student. The right to use services is valid according to the semesters and it starts at earliest on the first day of the semester (autumn semester from 1 August to 31 December and spring semester from 1 January to 31 July).
Please note that the information regarding your enrollment will be transferred to us from higher education institutions with a delay of approximately 1-3 days.
International exchange students not completing a degree in a finnish higher education institution are not entitled to use the FSHS services.
Read more who can use the FSHS services.
When you want to contact us
When you need us, you can call one of our nationwide service numbers or contact us via the Self online service by using chat or completing a service form suitable for your symptoms.
A healthcare professional will discuss with you to assess the need for treatment and its level of urgency. Depending on your needs, you may be referred to remote services, local services, or be given self-care instructions.
Please note that due to the data protection, we cannot answer treatment-related questions by e-mail or via social media channels.
We will inform you about possible exceptions in service times or disruptions in our service lines on our website.
A video tip: short animation Using FSHS services
Local services across Finland
Our local services are available in nearly all study towns nationwide. We provide services at our own service units and partner units.
Your primary service unit is the one in the town where you're studying. Service units operated by partners are only for the students studying in these towns.
Appointments for all FSHS services and partners' service units are always made at the FSHS through our assessment of the need for treatment.
A wide range of digital services
We're providing more and more services remotely. Most of these services can be found in the Self online service. Start using Self as soon as you start studying!
In Self you can for example reschedule or cancel your appointments, manage your personal information or complete health and service forms. You can also use Self to access remote appointments.
A video tip: short animation The Self online service
Pay the healthcare fee to Kela
The healthcare fee for students in higher education that students pay to Kela covers all FSHS services. Please remember that you must pay the health care fee to Kela for each semester on your own initiative.
We at the FSHS do not charge fees for appointments or services (except for the fee for unattented appointments that you haven't cancelled in time).
If your social security is covered by another EU/EEA country, Switzerland, Great Britain or Northern Ireland (instead of Finland), you may not have to pay the healthcare fee. Then prepare to show a valid European Health Insurance Card or Global Health Insurance card, when visiting FSHS.
Any more specific questions about the healthcare fee should be addressed directly to Kela, which is responsible for collecting the fee.
Reschedule or cancel your appointment in time
If you cannot make it to your appointment, please remember to reschedule or cancel it no later than 24 hours prior to the appointment in the Self online service or by calling. This way you avoid paying for a fee for unattended appointments.
The fee for unattended appointments concerns all appointments, treatment based groups and examinations and are valid in both FSHS own as well as partners service units. This also applies for example to remote receptions, appointments by phone calls and vaccination visits
You will be able to answer the HealthStart questionnaire within your first academic year
The health examination for first-year students begins with the HealthStart questionnaire in the Self online service. After completing the questionnaire you'll receive an assessment of your state of health. If needed and based on your answers you will be referred for an in-person or remote consultation. You may also get useful health promotion tips.
If you now start completing your first degree at a higher education institution, the HealthStart questionnaire will appear in the Self online service within your first academic year. And if you update your contact information in Self immediately after the semester has started, you will get a personal invitation by SMS. We will also inform you on our news channels when the questionnaire will be available for you.
A video tip: short animation HealthStart
Familiarise yourself with our group activities
During the semesters, we arrange preventive and treatment groups both remotely and at our service units. In a group you can get support for your health and life management.
You can discuss attending a group with your nurse or doctor. For some groups you can register yourself.
Most of the groups are held in Finnish, but there are also plans for some individual groups held in Swedish or English.
See groups in English during autumn 2023
The digital FSHS Nutrition app is there to support your ability to cope
Healthy eating boosts your energy levels and helps you cope with your studies and day-to-day life. Our digital service FSHS Nutrition supports you to find the healthy eating habits that are right for you. The service offers coaching programs, recipes, tests, a photo food journal, articles and a diverse range of other material you can use whenever or wherever you choose.
Join our student events
We carry out study community work together with students, institutions of higher education and student associations. You'll meet us at various student events online and on campuses during the academic year.
At some point during your studies, you may also be interested in these:
Check out the Health Information section on our website
You will find useful health information and tips to promote your well-being in the Health information section on our website.
The Health information section has among other things a search engine to access our Health information resource, which contains a large number of articles on student health.
A video tip: short animation Health information online
Follow news on our website and our social media channels
We continuously publish news and information bulletins with current information at yths.fi/en/news. Start also following us in social media channels Instagram, Facebook, Twitter, LinkedIn and YouTube
Watch our video presentation for new students
You can also watch the video on our YouTube channel YTHSvideo.