Press Release 16th of June 2021 by THL
Nearly half of the students in higher education feel that the amount of work required by their studies has increased during the coronavirus epidemic. Women aged 18–22 who are university students and women aged 18–26 who are students at a university of applied sciences, in particular, report an increase in their study load.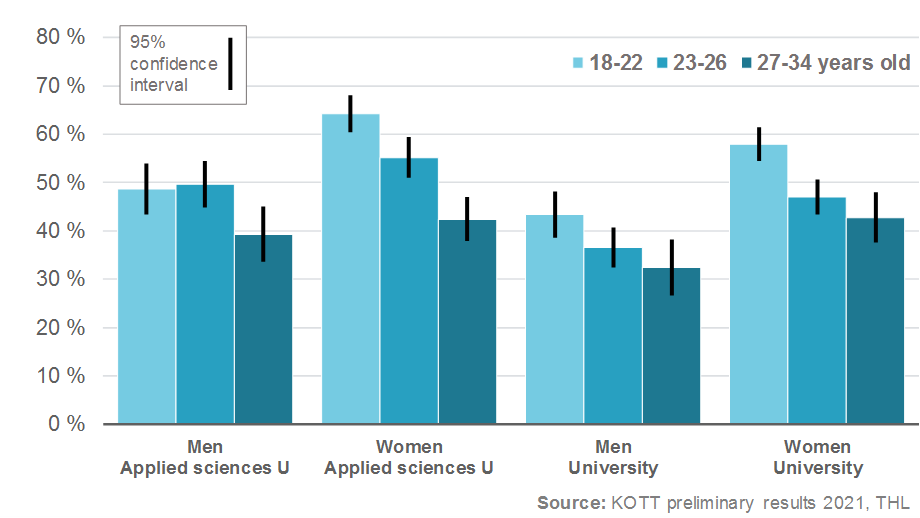 A total of 70 per cent of university students feel it has become more difficult to study during the coronavirus epidemic. Students of universities and universities of applied sciences aged 18–22 and students of universities of applied sciences aged 23–26, in particular, feel that their studies have become more difficult. At the same time, one in five respondents to the survey say that their studies have been slightly easier.
A survey of university and university of applied sciences students was carried out in February and March 2021.
Feelings of loneliness have increased by more than half
More than half of those studying at higher education institutions report that their feeling of loneliness has increased. Loneliness affects especially women aged 18–22 studying at universities: up to three out of four have experienced loneliness more often than before.
"Other students feel that distance learning has made studying more difficult and lonely. Other students have gained new motivation for studying and more free time. According to preliminary results, people living alone have felt lonely more often than those who have families", says Suvi Parikka, Development Manager at the Finnish Institute for Health and Welfare (THL).
"We need to investigate the link between the experience of loneliness and psychological strain. It is important to examine the impact of psychological welfare safeguards, i.e. social networks. We will get research results on the subject towards the end of the year", Parikka continues.
40 per cent of students say their financial situation has deteriorated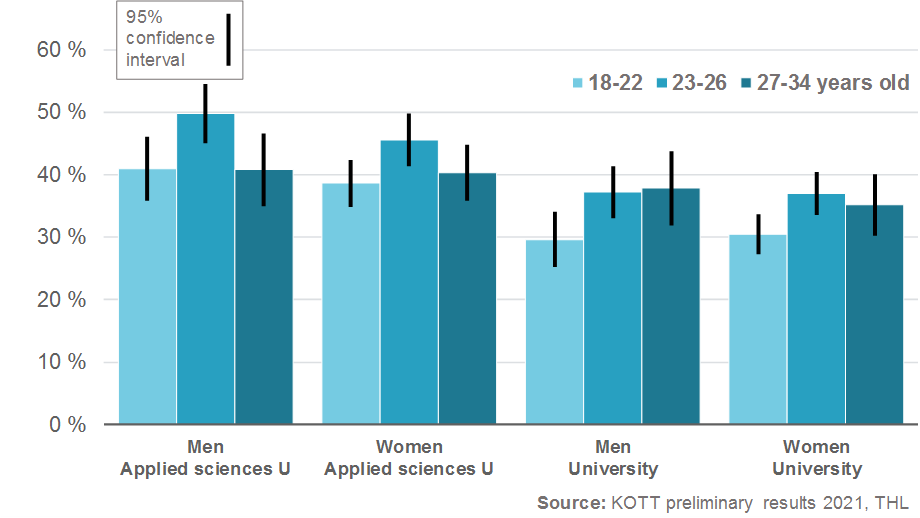 The coronavirus epidemic has made the financial situation of higher education students more difficult. Nearly 40 per cent feel that their own financial situation has deteriorated to some extent. On the other hand, around half of university students have not noticed any changes in their financial situation. University of applied sciences students consider their financial situation to have deteriorated more often than university students.
"The worsened employment situation is a key factor in the deterioration of the financial situation. Lay-offs have increased significantly, and the availability of summer jobs for students has been poor", says Laura Kestilä, Research Manager at THL.
"Part-time work and summer jobs are an important source of income for many higher education students. Their financial situation has been weakened by the reduction or loss of additional income, as there has been less work available during the coronavirus epidemic and jobs have been cancelled or terminated", Kestilä continues.
A health and well-being study carried out by THL and the he Social Insurance Institution (Kela) has examined the effects of the coronavirus epidemic on the studies, daily life and lifestyles of university and university of applied sciences students.
The Finnish Student Health and Wellbeing Survey 2021
A total of 12,000 randomly selected basic degree students aged 18–34 from universities of applied sciences and universities were invited to participate in the survey. A total of 6,258 students responded to the survey.  The turnout was 53%.
The survey is implemented every four years.
The final results of the survey on student health, well-being, ability to study and service experiences will be published at the end of 2021.
More information
Suvi Parikka, Development Manager THL, tel. +358 29 524 7959
Laura Kestilä, Research Manager THL, tel. +358 29 524 8795
Timo Hujanen, Senior Researcher Kela, tel. +358 20 63 41931
See also
Read more about the Finnish Student Health and Wellbeing Survey.