Influenza vaccinations will start at FSHS in November 2023. Health and welfare students in higher education, as well as students belonging to a risk group can receive their influenza vaccinations from the FSHS free of charge.
Note! It is not yet possible to book appointments for influenza vaccinations. Follow our website: instructions for booking a vaccination appointment and additional information on the practical arrangements will be published during October. Unfortunately, we can´t answer questions about influenza vaccinations in advance by phone.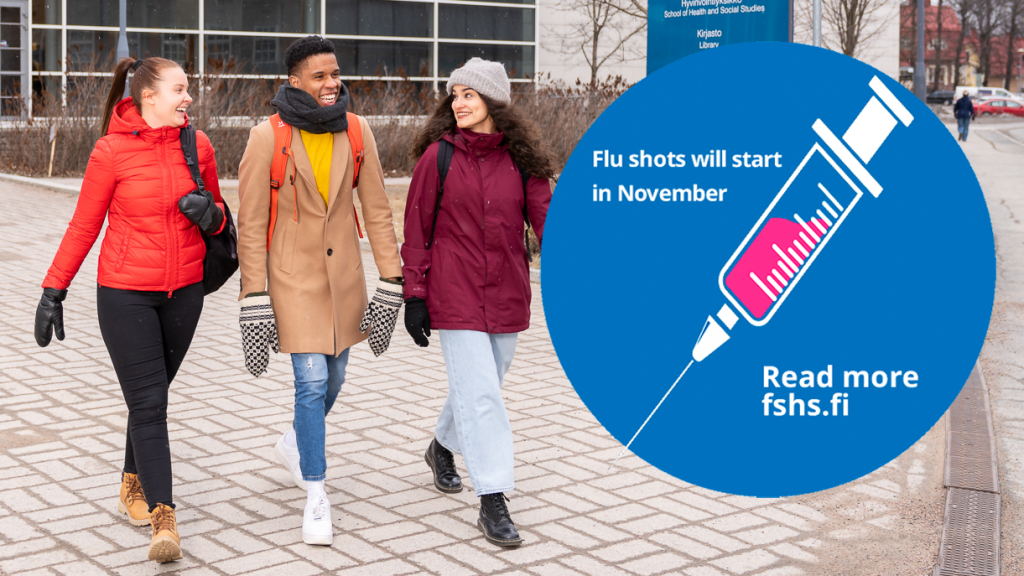 The vaccination schedules will vary in different towns depending on the date of availability of the vaccines. The vaccinations will be carried out both as mass vaccinations and during appointments.
FSHS's assignment is to firstly to take care of influenza vaccinations of health and welfare students. A person who belongs to a risk group can get vaccinated through the public sector as well. Please note that if you belong to a risk group and want to get both the influenza vaccination and the corona vaccination at the same time, you should contact your own health center. You cannot get a corona vaccination from FSHS.
If you're not a health and welfare student or don't belong to a risk group but would like to receive the influenza vaccine, the FSHS can provide you with a vaccine prescription, when the influenza vaccinations start – you can then purchase the vaccine at a pharmacy at your own expense.
Students in higher education can receive their influenza vaccination in their place of study – either at an FSHS service unit or a partner service unit. Students can visit any FSHS service unit for their vaccination, but partner units will only vaccinate students in higher education studying in these towns.