The events planned next week across campuses in connection to the FSHS-Day (18th of March) are cancelled due to the situation regarding the coronavirus.
We want to act in a responsible manner through this measure towards our students, the student community and our own personnel.
A new lunch invitation will be presented at a later date.
_________
Come and lunch together on Wednesday 18th of March – check where we #lunchtogether
Are you having your lunches alone accompanied by your phone? Perhaps you would rather be accompanied by a friend or a new acquaintance? You will have an opportunity to lunch together and meet new people on FSHS Day on the 18th of March when the #lunchtogether campaign is being organized in 18 student restaurants across Finland.
Check from the list where we lunch together! Upon arrival you will receive a free porridge bag and nice company at the lunchtogether-tables.
One purpose of this year's FSHS Day is to raise awareness concerning loneliness amongst students, eating alone and nutrition. The #LunchTogether-campaign tackles these questions in a fun and easy-going way on Wednesday the 18th of March 2020.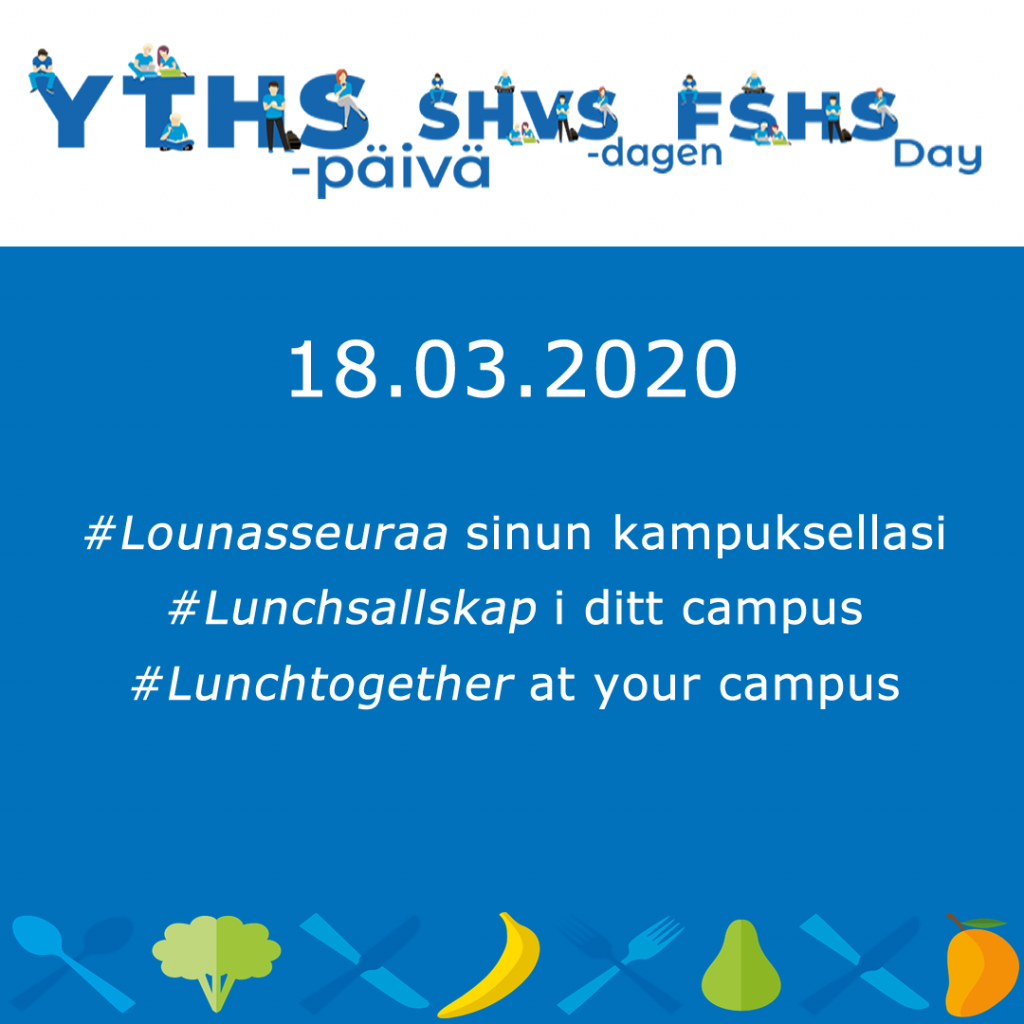 These events are cancelled
Espoo
Fazer's A Bloc restaurant 12 (11.00 am to 1.00 pm)
Helsinki
Restaurant of Academy of Fine Arts (11.00 am to 1.00 pm)
Restaurant of Sibelius Academy (11.00 am to 1.00 pm)
Restaurant of Hanken School of Ecnonomics (11.00 am to 1.00 pm)
Joensuu
Fazer Food & co Kampus Bistro (11.00 am to 1.00 pm)
Jyväskylä
Student restaurant Uno (11.00 am to 1.00 pm)
Student restaurant Piato (11.00 am to 1.00 pm)
Kuopio
Fazer Food & co, Ravintola Snellmania (11.00 am to 1.00 pm)
Lappeenranta
LUT buffet (11.00 am to 1.00 pm)
Aalef yo-talo (11.00 am to 1.00 pm)
Oulu
Student restaurant Kastari (11.00 am to 1.00 pm)
Rauma
Student restaurant Torni (11.00 am to 1.00 pm)
Rovaniemi
Ravintola Felli (11.00 am to 1.00 pm)
Tampere
Juvenes restaurant (11.00 am to 1.00 pm)
Reaktori restaurant ( 11 00 am to 1 pm)
Turku
Univeristy of Turku, Assarin ullakko (11.00 am to 1.00 pm)
Åbo Akademi University, Café Gadolinia (11.00 am to 1.00 pm)
Vaasa
Mathilda's aula (11.00 am to 1.00 pm)