Services
Updated 4 September 2020
The FSHS expansion means more than just expanding the customer base to students at universities of applied sciences – we also want to make improvements to our services. Our aim is to make service provision even smoother, taking into account the special features of our broader customer base. Our service model is designed to ensure that all students in higher education have access to the same range of services irrespective of their place of study.
The service model is based on specially appointed teams and centralized services. These multidisciplinary teams will be responsible for healthcare services for particular student groups as well as study community work within educational institutions concerned. Teams comprise GPs, public health nurses, psychiatric nurses and physiotherapists, who will work closely with psychologists, psychiatrists and oral healthcare professionals treating the students. The focus will be on students and educational institutions.
Centralised services are nationwide services that are produced centrally and are entirely electronic or remote. The staff within our centralised services comprise employees at our different service units who will work in close collaboration under the same guidance principles despite being in different locations. In addition to joint assessment for the need for treatment and service guidance, centralised services include consultations with online doctors, travel health services, sexual guidance, prescription renewals, birth control counselling, nutritional therapy and remote guidance on oral healthcare. The teams will use remote and electronic services, for example during remote consultations.
Both the centralised services and the teams concerned will be piloted at the end of the autumn. This will provide valuable information about how the service model functions and allow us to improve our working procedures wherever necessary. It is also important for our staff to gain practical knowledge about the new operational models before their actual implementation. This will enable a smoother transition to the entire staff.
********
Updated 16 June 2020
The purpose of student healthcare is to organise health and medical care services for students, to support their health and ability to study, and to promote well-being in the study environment and student community.
Student healthcare services and the way they operate are presented below: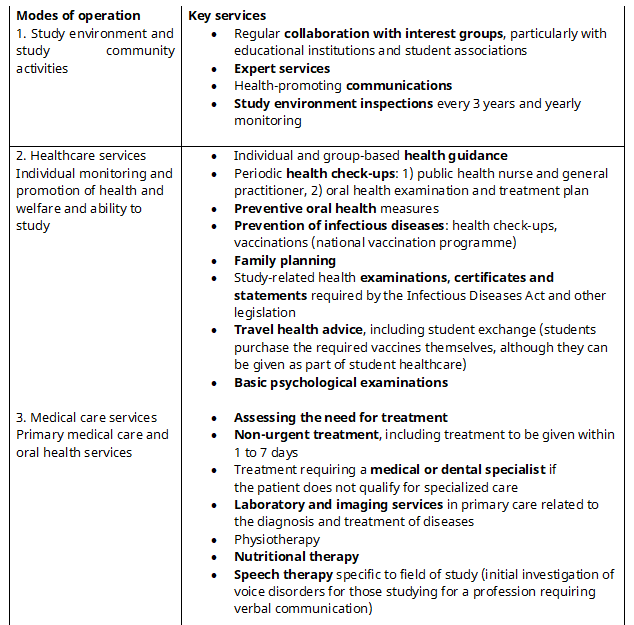 However, the following services are not provided by student healthcare:
********
Updated 14th of April 2020
A new Handbook on healthcare during studies will be published during the spring. Published by the Ministry of Social Affairs and Health, the handbook sets out national guidelines for student healthcare and covers all forms of education after comprehensive school. The handbook describes the aims, tasks and the essential content of student healthcare. The Ministry of Social Affairs and Health published the handbook's first edition in 2006, and it's now been entirely rewritten by a large number of experts. The FSHS has also participated closely in the production of the handbook.
The new handbook aims at clarifying certain issues, particularly the definition of which students are entitled to use student healthcare, the content of healthcare and medical care, the interpretation of the Healthcare Act in student healthcare, the services and fees for international students, and the compiling of statistics relating to student healthcare. Now that the framework for the handbook is complete, we've been able to clarify our own service model plans too.
********
Updated 13th of February 2020
The FSHS service model is based on the new Act on healthcare for students in higher education. The aim is to provide efficient, high-quality services catering for students' needs. The service model is based on two major foundations: Firstly, there's a team responsible for serving students and educational institutions as a local service. Secondly, there are centralised services that aim at ensuring nationwide availability of certain services and thus equality for all.
Development projects concerning both the team and the centralised services have already begun, and staff are currently working hard on both projects to find the best practices. New practices will be pilot tested already during 2020 to ensure that introduction of the new service model proceeds smoothly in all towns during the expansion.
********
Updated 10th of December 2019
The Ministry of Social Affairs and Health and the Finnish Institute for Health and Welfare (THL) have begun to improve and update the Handbook on health care during studies published in 2006 (Ministry of Social Affairs and Health 2006:12). The FSHS is an active participant in this work. The aim is to complete the handbook during spring 2020. The changing environment and particularly the introduction of legislation on healthcare for students in higher education has increased the need to apply and clarify the guidelines and legislation.
Not only services but also service channels are being developed for the purposes of the coming expansion. Since the beginning of November, we've been piloting InfoChat, a service available to everyone on our website for the purposes of current and future service guidance and counselling.
********
Updated 15th of October 2019
Who is entitled to use FSHS services?
Under the new legislation all degree students in higher education who have registered as attending students for a particular term will be entitled to use FSHS services. Students in higher education are
university students (Bachelor's or Master's degree),
students at universities of applied sciences (Bachelor's or Master's degree),
Police University College students (Bachelor's degree) and
civilian students at the National Defence University.
Foreign exchange students, commissioned education students, and students on further and continuing education courses are not entitled to use FSHS services.
Electronic, centralised and remote services will complement local services
As the number of students entitled to use FSHS services will more than double and the number of study towns will increase four-fold, we need services that will be even more accessible. Many student healthcare situations require the customer and the healthcare professional to be physically in the same room, but actually there are even more situations which do not require this. Instead of visiting a service unit, many issues can easily be handled remotely online. Most important is that students get the help they need as easily as possible without compromising high quality.
The FSHS is currently developing centralised services and remote and online services to ensure the efficiency and high quality of its services. Even though services are provided through several channels and partly by partners, all contacts will be made through the service guidance. In other words, students themselves don't need to know which services are provided in relation to which issue. They can just contact the FSHS, where professionals will guide them to the right service.