Accessible local and online services
You can use local services at over 50 FSHS service units and a wide range of online services depending on your situation and needs.
From Helsinki to Rovaniemi, from Raasepori to Inari
As a customer of the FSHS, you will have access to over 50 service units around Finland: 23 of them will be run by the FSHS and 30 of them by partners. 95% of all students in higher education will be within the scope of service units run by the FSHS.
If necessary, you can visit any of the FSHS's own service units. The service units operated by partners are only for the students studying in these towns.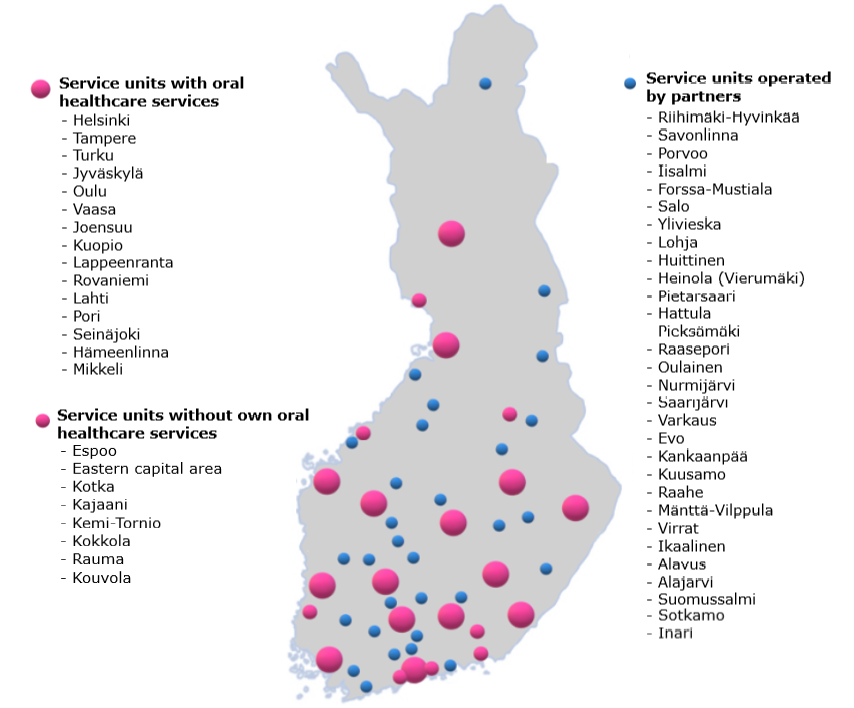 All service unit locations will be confirmed during the autumn, and from 1 January 2021 onwards you'll find their contact details on the FSHS website. The table below shows the confirmed service unit locations (4.9.2020). The table will be updated whenever new information is confirmed.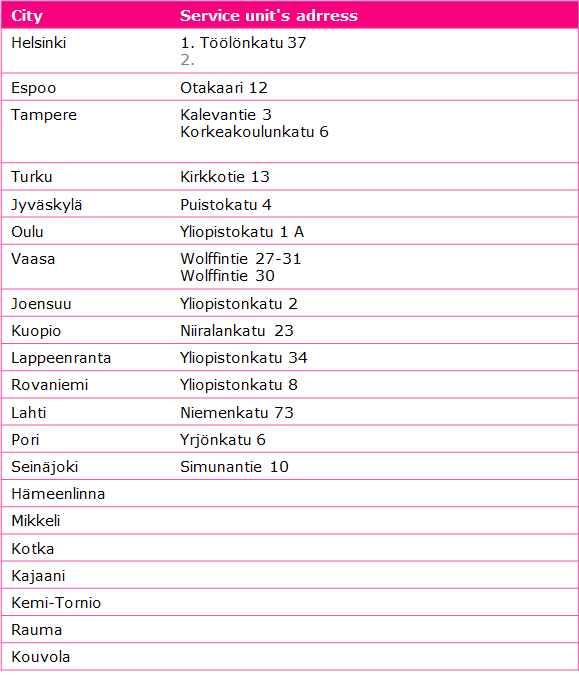 Accessible
The service network that comes into force on 1 January 2021 has been developed to meet two key requirements: accessibility of services and a sufficient customer base at the service units. The FSHS's own service units will be in towns with at least 2,000 students using these services. Oral healthcare services will be provided in towns with at least 4,000 students.
The accessibility criteria refer to the requirements according to which students must have access to the services.
The criteria for the accessibility of general healthcare services by public transport are as follows:
a travel time of no more than 45 minutes
a transport frequency of at least once an hour
a one-way ticket price of about 7 euros.
Oral healthcare services are typically used less frequently than other services, and this is why the accessibility criteria for these services are as follows:
a travel time of no more than 60 minutes
a transport frequency of at least once every two hours
a one-way ticket price of about 10 euros
If there are limited oral healthcare services available at the nearest service unit, the travel time to a service unit providing more demanding services must not exceed 75 minutes.
Service model for accessible and equal services
As part of the FSHS expansion and changes in student healthcare from 1 January 2021, we will be adapting our service model to guarantee accessible, equal, high-quality services for all students. The service model is based on centralised services and multidisciplinary teams appointed according to students' individual needs and study fields.
Find the nearest service unit on your mobile phone
In addition to local services, an ever-expanding range of electronic and remote services will be available nationwide.
You can access them irrespective of your place of study. From 1 January 2021 you will have access to services by online doctors, sexual health services, chat services, and guidance services covering travel health, oral health, nutrition etc.
You will have your own team
Services will be provided by your own team at your service unit in your place of study. Teams will be formed depending on your individual situation and study field, the aim being to bring together students, student healthcare experts and educational institutions. Your team will comprise several experts in student healthcare who know you and your student community.
Any questions? Check if you can find an answer on our Q&A page, where you can also send us your own question.
Facts
An extensive service network which includes all in all 53 service units of which 23 are FSHS own service units.
You can use a growing amount of remote services as well as remote consultations.
A dedicated team is responsible for the students local services.